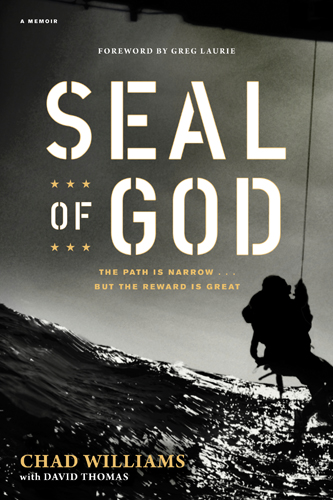 What a great story!
I honestly ordered this book by accident. I was going to look at the details and ordered it instead. I am now very glad I did. This was a very good book.

It is a memoir of Chad Williams. He takes you through his life as he becomes a Navy SEAL. He shows all the torture someone has to go through to become a SEAL. What made it even worse was what he went through after becoming a Christian.

Chad starts out as a skateboarder. He seems to excel in everything he does. Later on he starts down a road of drinking that leads to loneliness and boredom. One day, out of nowhere, he decides to become a SEAL. This book gives you a closeup look at the drills, training, sleep deprivation, and torture each SEAL has to endure.

I have read a lot of Biographies. Some are better than others. I would place this in the "better than others" category. Written in a simple, to the point style, this is a good book to give a friend or family member who doesn't know Christ. It has it all - humor, grief, and triumph. I couldn't put it down.

I highly recommend this book. 5 stars

* This book was freely provided by Tyndale House for the purpose of an honest review.
If you are interested in getting a signed copy of, "SEAL of God" go here:
http://store.sealofchrist.com/products/seal-of-god