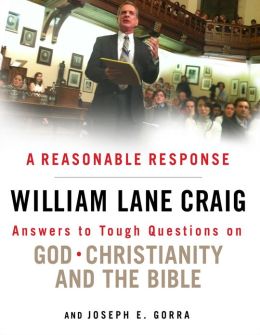 This is the first book I have read by Craig. I have heard some of his debates but never read him. Most of the information I had on him was his view of middle knowledge and Molinism.

This was a great book. It is not your average Christian book. It is very deep. It is always good to read things that are a little over your head. If every book we read was in our comfort zone, we would never learn.

Craig's book consists of questions from around the world. These are not easy questions. Craig respectfully answers each in detail. He is both logical and Biblical in most responses (we differ on Calvinism).

Some answers will send you into farther reading. Each section has a list of resources that will take you deeper. The list is split into Beginner, Intermediate, and Advanced.

Craig answers anything from – "Does God exist?" to "If God is good, why is there evil in the world". There is also an examination by Joseph E. Gorra of Craig's answers and gives us insight into the details of answering questions. Here he shows us how Craig came to his conclusion and how to answer similar questions on our own.

I don't always agree with every answer, but he is very knowledgeable and a lot smarter than I. This will be a book that I will likely go back to after farther study.

The book is not only about answering questions; Gorra's additions are actually "how to" lessons in apologetics.

I highly recommend it and give it 5 out of 5 stars.

I received this book, free of charge, from Moody Publishers and NetGalley, in exchange for an honest review.